Transform Your Dream Kitchen Today: Top Kitchen Designers in Atlanta Await
Revitalize Your Culinary Living Space: Expert Kitchen Remodeling Solutions
Expert Kitchen Designers in Atlanta
Are you looking to transform your kitchen dreams into reality? Look no further than our kitchen designers in Atlanta Georgia team! From luxury kitchens featuring high-end appliances and designer lighting to traditional interior design that make the most out of a small space, our experts interior designer will work with you to create a functional and beautiful living spaces. Whether this is a renovation project for an existing home or building from scratch in a construction new home, our experienced professionals at Kitchen Design Studio can bring your dream kitchen to life.
Our Kitchen Remodeling Services
We provide an extensive range of individual solutions to complete your dream kitchen at the Kitchen Design Studio. Our skilled professionals guide you through every step of the process, ensuring a seamless experience and an amazing transformation from concept to completion.

Custom Kitchen Design
Our custom Atlanta kitchen designer team will work with you to achieve your vision for a perfect kitchen. Our experienced team can advise on floor plan, cabinetry, kitchen island, appliances, and other materials necessary for transforming your outdated kitchen.

Kitchen Cabinets
Get organized with our kitchen cabinets that have plenty of storage space. We will help you map out the best solution for your space and budget that captures your style and preferences, all while keeping functionality at the forefront.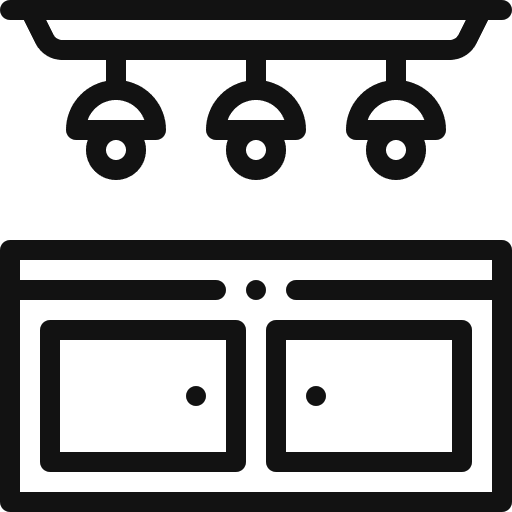 Countertops and Backsplashes
Our kitchen design process is complete with selecting the appropriate countertops and backsplashes. The unique style of countertops and a backsplash create an inviting ambiance that perfectly complements your design taste.

Kitchen Flooring and Tiling
We will help you find a perfect fit for your kitchen floor that is both beautiful and durable. We will help you pick out something that looks great and fits your lifestyle, making sure it is something you can be proud of.

Lighting and Electrical Work
We offer top-tier lighting and electrical work for your kitchen needs. Our team of certified electricians prioritizes safety and provides nothing but the best to secure solutions that boost efficiency while keeping energy costs low.

Pantry Addition
We offer a pantry addition to any home for a whole new take on food storage. Our unique pantry allows you to store anything from vegetables and canned goods to large items like bread boxes and cleaning supplies, creating a clutter-free kitchen.
Our Kitchen Designers in Atlanta GA Portfolio
Discover the diverse range of featured projects we've completed for our delighted clients in our impressive portfolio. From modern kitchen and minimalist to classic and cozy, our designs showcase our ability to cater to various tastes, lifestyles, and budgets.
Why Choose Our Atlanta Kitchen Designer Team
For their creativity, focus on detail, and commitment to excellence, our talented kitchen designers in Atlanta team stands out. We have prided ourselves in offering the most personal service, innovative designs, and high quality to make your kitchen renovation better than you dreamed it would be.

Experience and Expertise
Kitchen Design Studio has decades of combined experience and expertise in kitchen designs, enabling us to bring incredible innovation and creative strategies to our customers. We understand that it isn't enough to have ideas; we also recognize the needs of our customers to give them something truly unique. We are committed to creating one-of-a-kind kitchens that stand out from the rest and meet the specific desires of our clients. We leverage our experience and expertise to turn those dreams into reality. We use only premium-grade materials with precision craftsmanship for long-lasting quality.

Personalized Service
Kitchen Design Studio has always prided itself on delivering exceptional personalized service. Our professional kitchen interior designer team understands each client's needs and wants down to the smallest detail. Whether you need a interior design that accommodates special event entertaining or an updated look for everyday use, Kitchen Design Studio can make it happen! We carefully listen to all requests, analyze existing living space, and combine creative ideas with innovative products to develop the perfect kitchen for each customer. Kitchen Design Studio will turn your vision into a beautiful reality.

High-Quality Materials and Craftsmanship
When it comes to kitchen renovations, a kitchen is only as good as the materials and craftsmanship that goes into it. Investing in high-quality materials and using the expertise of professional and experienced craftsmen will ensure a kitchen that looks stunning and lasts the test of time. Using strong wood, rust-resistant metals, long-lasting finishes, and expert installation, you can be sure your new kitchen will withstand years of wear and tear. We strive for excellence in every aspect, from product design to customer service, and having access to top-notch material helps us achieve this goal.
Our Kitchen Remodeling Services
Do you dream of a more functional space and better suited to your lifestyle? If so, it's time to consider a kitchen remodel. At Kitchen Design Studio, we specialize in transforming kitchens into beautiful, modern kitchen that meet our clients' needs to create the kitchen of their dreams. Visit our facebook or contact us today to schedule a consultation. We can't wait to hear about your ideas and help make them a reality!
Testimonials from satisfied clients
Nothing speaks to our devotion and skill more than the words of a satisfied client. Look at our testimonials and see how our Atlanta kitchen designer team transformed ordinary dining room into unique spaces that exceed expectations, creating memories you will never forget.
Love the service and the quality, Israel was amazing, highly recommended
Roslyn Holcomb
2023-01-26
We had an amazing experience with this company. Everything was done on time and done well. Their standards are extremely high with meticulous execution. Each day we knew what would be happening the next day and approximately how long it would take. They were innovative with great ideas and also attentive to our needs. We couldn't have asked for a better kitchen remodeling experience.
Kitchen Design Studio team were very professional from start to finish. They helped me remodel the kitchen of my dreams!
Great work!
TandR Ferguson
2022-12-05
Very pleased with the outcome of our kitchen renovation. The company was able to work with us on adding new features to our old existing kitchen features that we wanted to keep. The entire kitchen looks brand new. We would definitely use them again on another renovation in the future.
From the day I first met Isreal I felt extremely comfortable with him as a person, and a perspective contractor. I remeber feeling very confident that he had the experience to achieve what we were looking for in our kitchen, and I was not wrong. At no point during the process of a total kitchen redo did any of the above feelings ever change. Isreal and Ortal came up with some great ideas that we hadn't considered and addressed every question or concern we had throughout the process with patience. In a time where it is so difficult to find reliable honest contractors, we felt super relieved to have found and chosen this company. We will use them again to redo our master bathroom. I would recommend them to anyone considering a renovation project. They just do good business. Period. JT Summers
From the initial meeting to the completion of the project, we experienced nothing short of excellent customer service and superior quality of work from Israel, Ortal, and their crew. We highly recommend this business!
We have done several remodeling projects at our home over the past 2 decades and Kitchen Design Studio was by far, the best experience we have ever encountered. Israel and Ortal helped redo our entire basement apartment and were amazing to work with. They took a typically stressful and challenging experience and made it into something manageable that left us with a very different view of what remodeling could be. Some words that come to mind in our experience working with KDS are professional, dependable, honest, flexible, easy to work with and the icing on the cake was Israel's wonderful sense of humor. We are extremely impressed with the finished product and everyone who enters the space is completely in awe. We would not consider using ANY OTHER company for further remodel work in the future, as our minds have been changed after working with them.
They provided excellent service and offered several design options. They came to our house multiple times during design and pre-installation phases to fine tune the designs. They were very patient during our decision making, and even more patient with our general contractor who was several months late with their work.. The cabinet and countertop installation were the best quality. We love our new kitchen!
Israel and his team were great throughout the entire process installing a wet bar in our basement. Professional, courteous, and reliable people who did great quality work that we are very happy with. If we need similar work done again, we would definitely use this company.
Frequently Asked Questions
Delve into the world of kitchen remodeling with confidence, as our informative FAQ section addresses your most pressing questions. With detailed answers and expert guidance, we aim to ease your concerns and empower you to make the best decisions for your kitchen transformation.